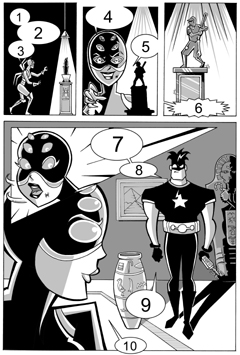 1: THIS IS TOO EASY!

2: THEY SHOULD PROTECT THESE PRECIOUS PRIZES BETTER…

3: …FROM THE LIKES OF ME!

4: AH! HERE'S WHAT I CAME FOR! THE FAMOUS SPIDER OF THE SPHINX...

5: COME HERE, YOU PRECIOUS LITTLE...

6: ...LITTLE LEAGUE TROPHY!

7: PEE-WEE LEAGUE, ACTUALLY. JACKSON-PENN JAGUARS. WE WERE CHAMPS AT AGE 7.

8: HELLO, LADY ARAKNID.

9: WE GONNA DO THIS THE HARD WAY ... OR THE EASY WAY?

10: BUZZBOY, DARLING...