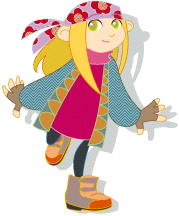 Art by John Peters
For ten-year-old Pandora Spocks, the shape-shifting, ten-eyed monster that lives in her closet is more than a childhood fantasy; it's what stands between her, a good night's sleep, and possibly, the rest of her life!

Welcome to the Dreamworld of Forty Winks, a place of infinite possibilities and ultimate insight.

With the help of her friends, Pandora battles the big-toothed beastie that haunts the Dreamscape.

Along the way, she discovers the hidden secrets and the blatant truths of the place where we all go when we sleep.