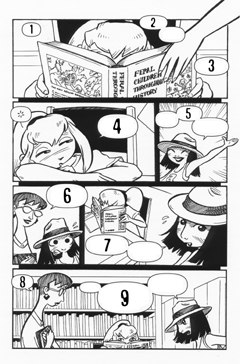 1: YOO-HOO!

2: PANDORA? PANDORA, WAKE UP!

3: MUST BE A PRETTY GOOD BOOK, HUH?

4: ANNABELLE? THIS ISN'T YOUR STUDY HALL—WHAT ARE YOU DOING HERE?

5: WHAT AM I DOING HERE? IT'S FUNNY YOU SHOULD ASK, BUT—I'VE COME TO TAKE YOU AWAY FROM ALL THIS!

6: ANNABELLE WU! WHY ARE YOU BOTHERING YOUR CLASSMATES?

7: I'M SORRY, MISS BAINE! I ONLY MEANT TO BOTHER PANDORA! MY ENGLISH TEACHER ASKED ME TO COME GET HER.

8: OH, REALLY?

9: NO—REALLY! PANDORA PROBABLY FORGOT TO TELL YOU THAT SHE'S SUPPOSED TO HELP ME WITH A VERY IMPORTANT PROJECT THIS PERIOD. SHE REALLY GETS LOST WHEN SHE GETS INTO A GOOD BOOK!