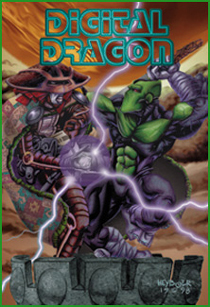 Artwork by Bryan Heyboer
On a world where nearly every available surface has been ground up, paved over, and converted to machinery, wildlife is the stuff of legend and nature has no room to breathe.

Generations of uncontrolled industrial "progress" have ravaged the planet and jeopardized its people's future. As a final hope, the Europa Corporation has again turned to technology — a cyborg mix of flesh and silicon designed to sacrifice himself for a world he no longer remembers.

The corporation never thought its creation might develop a mind of its own ... but it did.