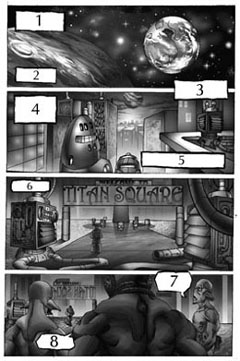 1: DEEP WITHIN THE EXPANDING DARK MATTER OF SPACE…

2: …LIES A ONCE PURE WORLD…

3: …NESTLED BETWEEN A MAJESTIC GAS GIANT AND A DYING STAR.

4: THIS PLANET, CYPRUS, IS INFESTED BY A FUNGUS CALLED TECHNOLOGY.

5: AND UPON ITS HIDDEN CRUST SWELLS THE GRANDEST OF CITIES.

6: CYPRUS MONS!

7: WELL, WELL, WELL. WHAT HAVE WE GOT HERE?

8: AW, THIS RUNT CAN'T BE FER REAL.