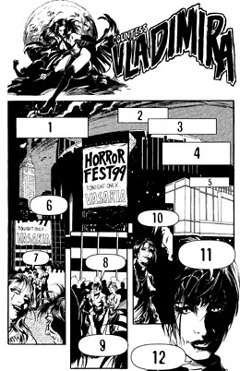 1: As this astonishing century breathes its last, I find myself pretending to be...what I really am! What a wonderful time that allows me this luxury!

2: A hundred years ago I could never have imagined such a thing as this...

3: ...a Horror Convention! Adorable young people dressed in their best dark finery to emulate creatures of the night...

4: Oh yes, the adorable children...and the no-longer children who prey on them...all playing the vampire game...never suspecting what terrors really lurk in the darkness...

5: ...or that one of those terrors...is ME!

6: AIMEEEEEE! AIMS...! OVER HERE!

7: HEY YOU GUYS...

8: WHOA, GRRRL...YOU LOOK HOT!

9: I CAN'T BELIEVE YOUR MOMS LET YOU COME OUT TONIGHT!

10: YEAH, RIGHT...LIKE SHE WOULD!

11: SHE WENT OUT TO PLAY MAH-JONGG...AND LITTLE AIMEE PUT ON HER LATEX DRESS FROM RELIGIOUS SEX...

12: ...AND CAUGHT THE BUS! THINK I'M GONNA MISS VASARIA? C'MON...LET'S MAKE SOME TROUBLE!